Description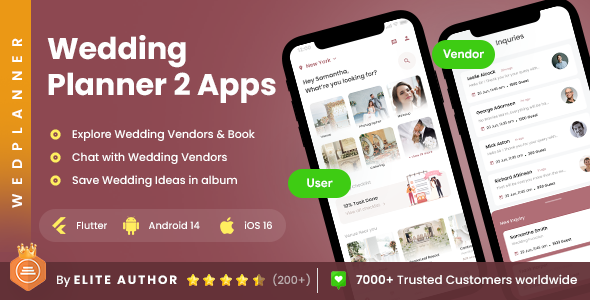 Simplify your Wedding Planning with Modern and Customizable App Template

WedPlan is a wedding planning app template that provides an all-in-one solution for users to browse and book wedding vendors such as photographers, makeup artists, venues, catering, etc. WedPlan template can be a great choice for your wedding planning app project. It is a modern-based and easily customizable template with good-to-go UI designs. With the help of this template, you can easily create a wedding planner app that makes it easy for users to manage everything related to their wedding. So, if you're looking for a wedding planner app template, get started with WedPlan today!
Wedplan is a Wedding Plan App template with 30 screens.
List of Screens
Splash Screen
Sign in, Sign up, and OTP Verification Screen
Home Screen
Search Screen
Categories Screen
Categories Expand Screen
Venue Screen
Venue Info Screen
Portfolios Screen
Album Screen
Picture view Screen
Message Form Screen
Messages Screen
Inbox Screen
Ideas Screen
Shop Screen
Product Info Screen
Planning Screen
Edit Screen
Checklist Screen
Vendor Shortlist Screen
Shortlisted Screen
Finalized Screen
Saved Ideas Screen
Saved Shopping Screen
Account Screen
My Profile Screen
Privacy Policy Screen
About Us Screen
Language Screen
FAQs Screen
Changelog & Update History
Version 2.8
6 April 2023

Update: Resolved UI responsiveness issues.
Update: Other improvements and bug fixes.
Update: Product Description update
Update: Minor update
Update: Improve UI / UX
Update: Add Sentences to translation files.

Version 2.7
4 March 2023

New: Android V2 Embedding migration
New: Flutter 3.7.5 Update
New: Flutter links added
New: Multiple new languages added
Update: Compatible for Android 14
Update: Compatible for iOS 16
Update: Performance Improvement
Update: Packages updated to latest versions
Update: Plugins updated to latest versions
Update: Documentation updated
Update: other minor bug fixing

Version 2.6
16 November 2022

Update: Language improvement
Update: New screen added
Update: Language addition
Update: Minor ui bug fixes

Version 2.5
17 July 2022

Update: Documentation update

Version 2.4
12 March 2022

Update: Documentation update

Version 2.3
25th September 2021

Update: UI Improvement
Update: Fixed few crashes 
Update: Minor bug fixes
Update: Performance Improvement

Version 2.2
25th July 2021

New: Google Admob Added
New: Google Map Added
Update: UI Improvement

Version 2.1
2nd July 2021

Update: Responsivness
Update: Minior Bug Fixes 
Update: UI Improvement

Version 2.0
23rd May 2021

New: Null safety
Update: Flutter updated to version 2 

Wedplan is also known MyWed clone, WedMeGood clone, Appy Couple clone, WeddingSutra clone, WeddingWire clone, WeddingHappy clone, LadyMarry clone, Joy clone, The Knot clone, iWedPlanner clone, Zola clone, Zankyou clone, Mariages.net clone, Easy Weddings clone, Wedsly clone, The Knot clone, Blissful Brides clone, Noiva On clone, Bridebook clone, Hitched clone, Wedding Planner clone, Easy Weddings clone, Bridestory clone.