Description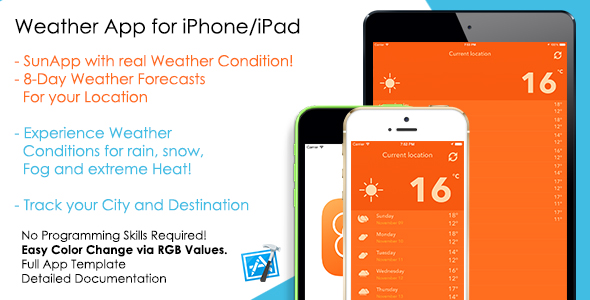 SunApp – Your iOS Universal Weather Forecast App
The original and most beautiful Weather App for iPhone & iPad – with real Weather Condition. Prepare for your day with the most accurate 8-day forecasts for your location and current conditions. It allows you to interact with the free Forecast API to download and present all the latest local weather information. Also with Intersitial AdMob Ads you can earn some money.
The application is ready to upload to the App Store. Does not require any configuration.
You can build off our already included full Xcode projects (With Ads and with No Ads) or simply add to your existing project. Celsius temperature is auto calculated based on the users locale so there is no need for complicated calculations.

Universal App for iPhone/iPad
8 day weather forecast – includes weather icons, date and weather report.
Weather icon for current climate – updates automatically.
Experience weather conditions for rain, snow, fog and extreme heat with weather effects.
Track your destination!
Standard weather info like condition description and temperature.
No Programming Skills Required.
Included a Forecast API key which can be also obtained for FREE from the forecast.io website
Detailed documentation. Developer PDF guide to help you get started.
Fast Support.
Easy to use. (No Issues)
All Image Files (Launch Images, App Icons etc…) included.
Please check also our other Apps
Please note that if you are planning to sell in-app purchases in the App or sell the App for a price on the App Store, you will need to purchase an Extended License. See the sidebar for more details. This does not apply to AdMob or other advertisement in the App.
You have no Mac and Xcode or no Developer Account?
We will be able to compile the program for you and publish it in the App Store. (Extra Support) Just write to us.
Source