Description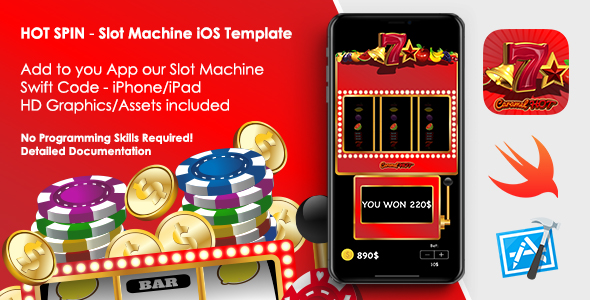 Hot Spin – Universal Slot Machine iOS App Template
Build your own Casino / Slots App! It's a simple Slot Machine template with Full HD Graphics which you can use.
The application is ready to upload to the App Store. Does not require any configuration.
You can build off our already included full Xcode project or simply add to your existing project.

Universal App for iPhone/iPad
Swift Code
No Programming Skills Required.
Included engine for casino app
Detailed documentation. Developer PDF guide to help you get started.
Fast Support.
Easy to use. (No Issues)
All Image Files (Launch Images, App Icons etc…) included.
Please check also our other Apps
Please note that if you are planning to sell in-app purchases in the App or sell the App for a price on the App Store, you will need to purchase an Extended License. See the sidebar for more details. This does not apply to AdMob or other advertisement in the App.
You have no Mac and Xcode or no Developer Account?
We will be able to compile the program for you and publish it in the App Store. (Extra Support) Just write to us.
Source